Deloitte ServiceNow Creator Lab
04. - 05. Oktober 2018
Recruiting-Event
Berlin
Beschreibung
Start your career at Deloitte: October 4th - 5th, Berlin
Consult and Create with ServiceNow. Closing date for applications: September 1st, 2018
You want to experience international consulting in the field of Enterprise Service Management? ServiceNow is a platform that enables organizations to easily build user portals and workflows for their services and related processes – with low configuration effort and high impact. The demand for ServiceNow experts is continuously growing. Experience in a case study how Deloitte not only identifies and understands business challenges of clients, but also defines and creates solutions directly in ServiceNow. Whether you are rather business or technology oriented, the Creator Lab offers an integrated experience of consulting, application development and provides insights into our daily work.
What to expect
Introduction of Deloitte Technology Strategy & Architecture
Insights into the field of "business processes digitilization"
An interactive team challenge
Guided by our ServiceNow professionals you learn how quickly you are able to configure workable solutions in ServiceNow – depending on your interest with a stronger focus in business design or configuration and development of ServiceNow
A dinner event with our colleagues to talk about work and career experiences
Individual interviews with the opportunity to receive a direct offer of contract
Apply, if you are
a team player interested in starting your career in consulting
enthusiastic about the digitalization of Enterprises
looking forward to translate fresh innovative ideas into specific recommendations for action: either in a role as business consultant with a strong understanding of business requirements - or as technical consultant advising and building the final solution
soon graduating in (Business-) Informatics, Industrial Engineering (and Management), (Business-) Mathematics, Natural Sciences or similar degrees
available from Thursday, October 4th to Friday, October 5th 2018
Application deadline is September 1st, 2018
If you have any questions, please contact our "ServiceNow Deloitte" team at career.consulting@deloitte.de. We are happy to answer your questions!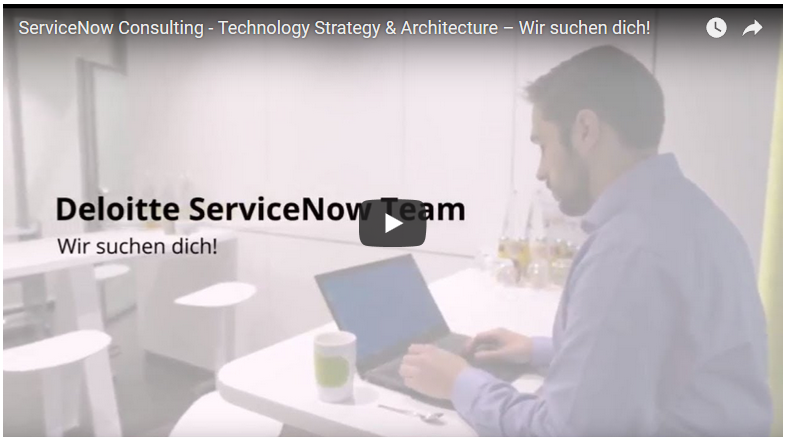 Technology Strategy & Architecture
Chief Information Officers (CIOs) face increasingly complex challenges: They must identify promising innovations timely and promote the realization of the associated competitive advantages. In this context, the driver of complexity is the ever-increasing flood of possibilities and trends. These include topics such as big data, social computing, applied mobility, capability clouds, multi-sourcing and gamification. Technology Strategy & Architecture supports CIOs in successfully mastering these challenges. Their offer is oriented holistically to the provision of IT services. It ranges from the development of IT-strategic topics ("Innovate") to the conceptual design of IT management and organization ("Manage") and the sourcing position ("Source") to the support of extensive implementation projects ("Transform").
Further information regarding Technology Strategy & Architecture can be found
here
.
Kontakt
Teilnehmende WiWi Partner