Contact
Contact person
ESMT Berlin
Address
Schlossplatz 1
10178 Berlin, Germany
ESMT Berlin
, situated in the heart of Germany's capital, is a private, international business school founded by 25 multinational corporations. The school's expertise focuses on the development of responsible leaders with a global focus on innovative management, analytics, and technology. ESMT is one of the top-ranked business schools in Germany with a global network of alumni in over 40 countries.
In addition to executive education, ESMT offers seven degree programs: three Masters and four MBA programs.
The ESMT Berlin Master programs are designed to offer you the ultimate combination of specializations, educational rigor, and entrepreneurial expertise. The revamped
Master in Global Management
(ranked #10 in the world and #1 in Germany in The Financial Times Global MIM ranking of 2022) is joined by the new
Master in Innovation & Entrepreneurship
and the
Master in Analytics & Artificial Intelligence
to help you start, analyze, and change business for good.
Since deciding to pursue an MBA can be a difficult decision, at ESMT we also provide you with a range of MBA programs tailored to fit any stage of your career. In addition to our
Full-Time MBA
, which offers a fully immersive experience, you can choose between a blended, 75% online 25% in-person
Part-Time MBA
, with a focus on business innovation, a modular
Executive MBA
, designed to develop senior leaders or our newest MBA program, a 100% online
Global Online MBA
, allowing you to study at your own pace.
All ESMT programs benefit from close relationships with ESMT's corporate network and founders, as well as its proximity to the booming entrepreneurial environment in Berlin. As the most international business school in Germany, over 80% of ESMT's faculty members have a non-German background. With 40 faculty members at the school, they represent 17 different countries.
Accreditation
ESMT is among the top 1% of business schools world-wide to hold the accreditation "Triple Crown." ESMT is accredited by AACSB, AMBA, and EQUIS. The "Triple Crown" is the highest distinction of quality for business schools worldwide.

ESMT has been accredited by FIBAA, the Foundation for International Business Accreditation Administration, since 2006.

The German Council of Science and Humanities (Wissenschaftsrat) renewed its accreditation of ESMT Berlin to grant PhDs in October 2018. ESMT was first awarded this right in 2013.
Study programs
Master of Science (M.Sc.)
Big data has become the driving force of business and society today. With large quantities of data being collected on a constant basis, the need for professionals well versed in the responsible processing, analyzing and application of data are in high demand. The ESMT Master in Analytics and Artificial Intelligence was built to answer to this demand. You will learn to leverage your quantitative skills and merge them with the managerial vision required to create value through data-driven solutions.
Master of Science (M.Sc.)
Unprecedented challenges and opportunities await the future leaders of the 21st century. Businesses with global reach play an increasingly important role in shaping the future along the lines of the United Nations Sustainable Development Goals. The ESMT Berlin Master in Global Management equips you to live up to these challenges by combining modern methods and theories with practice immersion - all with a global outlook. Understand how businesses shape the global economy and how managers and strategy consultants can contribute to making a positive impact.
Master of Science (M.Sc.)
If you believe, like we do at ESMT Berlin, that the future will have to be very different from the present we are currently living, then the Master in Innovation and Entrepreneurship at ESMT was designed for you. In today's dynamic networked society, it is the innovators that successfully disrupt and create the spaces for new solutions to emerge. The Master in Innovation and Entrepreneurship will guide you through identifying and evaluating these new opportunities, implementing business solutions, analyzing risk and more.
Requirements / Application
Graduates and professionals who want to make a difference
ESMT gathers a diverse and talented group of participants. We are looking for candidates who bring with them the facets of innovation and leadership for which the school stands.
Our participants have a strong educational and, for the MBA/EMBA, professional background, understand the importance of taking responsibility, possess the ambition to make a difference and show the potential to make the transition to a broader management and leadership role. They may come from any country, culture, study background and have experience in any industry and function.
For each program, please view the specific admissions requirements on
our website.
Financial Aid
ESMT Scholarships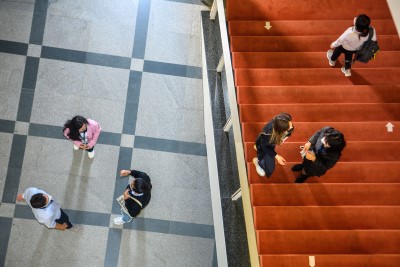 Scholarships are available to support with your tuition and living costs, to help you make your international business career a reality. Make sure to submit your application in time to take advantage of the tuition discounts and other financial offers that could help transform your career. Scholarships are awarded based on academic excellence, personal and professional achievement, leadership potential, and superior interpersonal skills.
Candidates can find a list of scholarships on the particular program websites.
Join our in-person or online events
to learn more about financing your studies at ESMT.
Recruiters Guide
ESMT collaborates with recruiters and companies interested in finding new talent. Career Services' Corporate Partnership is a three-way collaboration designed to help companies and MBA students establish direct contact. Companies take full advantage of these services to become personally acquainted with each of our Master and Full-time MBA students.
There are many ways to interact with students.
Please click here for more information
Links
Brochures