Kühne Logistics University
Master in Sustainable Management and Operations (SuMO)
Fact sheet
Graduation
Specialised Programm, Master
Taught language
English
Specialization
Business Administration, Management
Program Emphasis
Economics, Management, Operations Management, Sustainable Management
Course options
Part-time study
Locations
Hamburg
Contact
Contact person
Dr. Shilla Memusi
Program Manager (SuMO Program)
Our Master in Sustainable Management and Operations (SuMO) is a high-profile part-time program for executives which offers the unique opportunity to flexibly and efficiently acquire the tools and skillsets of sustainable management and learn how to effectively transfer knowledge to create real impact for a more sustainable world of tomorrow.
Taught by internationally renowned specialists, SuMO integrates state-of-the-art scientific expertise with a holistic and interconnected perspective on sustainability. Our blended learning format makes the best use of time by aligning innovative online learning modules with highly interactive on-campus sessions at KLU in Hamburg, Germany's gateway to the world and global logistics hub.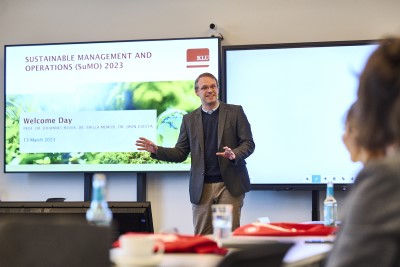 Strongly supported by the Kühne Foundation, KLU is the world's leading university advancing logistics, operations, and supply chain management. Located in Hamburg's HafenCity, Europe's third-largest seaport, KLU is situated at the heart of one of the most important logistics and operations hubs in Europe and beyond. Germany regularly takes first place in the World Bank's Logistics Performance Index and is considered as one of the most advanced nations worldwide in terms of green politics and advancements in sustainability. At KLU you are in the right place to study Sustainable Management and Operations.
If you want to make your mark toward a more sustainable and eco-responsible world, this program is the perfect choice for you!
Accreditation
Requirements / Application
Admission with a bachelor's degree with 180-240 ECTS or equivalent from a recognized university or college;
Enrollment without a first academic degree possible subject to an entrance exam (GMAT);
at least 2 years of work experience;
English proficiency proven by: TOEFL (IBT 90), IELTS (Band 6.5) or CAE/CPE (grade C). The TOEFL, IELTS or an equivalent certificate must not be older than 2 years at the time of submitting the application. Exceptions and waivers can be applied for and will be decided on individual basis.
Important Dates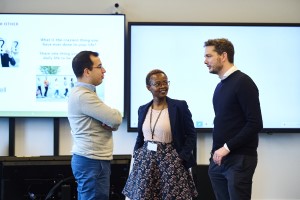 Start of application period: May 1
10 % "Early Bird" discount deadline: November 15
Application deadline: January 31
Start of the program: March 11
Tuition / Fees
18 months part-time Master Program: € 22,400
Optional 12 months Certificate Program: € 14,900
In exchange, at KLU you will benefit from studying in small classes, an international environment, and excellent contacts to the business world.
Your tuition fees cover tuition and services, on-campus and online classes including all course materials, on-campus IT services, access to the library and support and administrative services.
20 % KLU Alumni Discount
Duration of study
Master in Sustainable Management and Operations: 18 months
Certificate in Sustainable Management and Operations: 12 months
Participants have the option to either pursue the Master program with the completion of a master's thesis or to obtain a certificate without a master's thesis. The curriculum is the same for both programs with the addition of a master's thesis for the Master program.